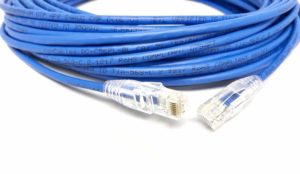 Our line of custom patch cables are made to order and are built in the USA by highly trained technicians. They are available in any length and all cable types. They are constructed with premium components and are individually tested to guarantee top performance for critical networks. These cables come individually labeled with the unique serial number and part number for easy identification.
In Stock Patch Cables
Our line of stock patch cables are ready to ship same day in all standard lengths. These cables are great quality and provide solid performance. They cater perfectly to those who need to finely balance budget and performance.
Stranded vs. Solid Conductors
Generally speaking, patch cables utilize stranded conductor cable for the extra flexibility that they provide. Therefore most of our patch cables are made with stranded conductor cable. Due to the fact that plenum rated cable is only available in the solid conductor variety, our plenum custom cables utilize solid conductor cable. There is a slight trade off in flexibility however plenum rated cables can be installed in plenum spaces.
Why Use Plenum Rated Cables
Building codes mandate that any material that occupies a plenum space must be "plenum rated". A plenum is any space that is utilized to send or receive air from heating or air conditioner units. In most commercial buildings the hung ceiling is used as a return air plenum to circulate the air back to the heating or air conditioning units. Another example of a plenum space would be a raised computer floor. So if your cable will run through a plenum space, the cable must be Plenum Rated.
Cat 6A Cabling
If you plan on running 10-Gigabit Ethernet, you will need the extra bandwidth provided by Cat 6A cabling. One of the key factors of Cat 6A cabling is to keep noise to a minimum. Noise can come from several different types of sources. With Cat 6A, one of the critical considerations is ANEXT which is the noise coming from an adjacent cable. This is why we recommend Shielded Cat 6A cabling
Why Use Shielded Cabling
Shielded cabling wards off unwanted signals or other noise. Keeping interference out will in theory make your data run faster. If your cabling is unshielded, you may still benefit from shielded patch cables (at the patch panel) since much of the noise can come from an adjacent patch cable. And as stated earlier, we recommend Shielded c able for Cat 6A since the low tolerance for noise is a strong factor.